For those of us who grew up watching TV shows on Disney and Nickelodeon, it's always a mystery to see what choices the fresh-faced actors make once their contracts with the wholesome channels dry up. For every Justin Timberlake, Emma Roberts and Ariana Grande successful transition story, there are the private life crash and burn tales of Miley Cyrus, Lindsay Lohan and Jamie-Lynn Spears. Then there are the stories of actors like Ross Lynch, who quietly move on to more adult-oriented fare without so much as a TMZ ripple. Not that he's gone completely unnoticed. Young Mr. Lynch is still making waves, playing the high school aged cannibalistic serial killer Jeffrey Dahmer in My Friend Dahmer, one of the most talked about films of this year's Tribeca Film Festival.
Lynch, who is best known for playing Austin Moon on the Disney TV show Austin & Allie and Brady from Teen Beach Movie (2013), has pulled a complete 180 in his career, going from staring in bubble gum kiddie shows to portraying one of the country's most infamous serial killers. Granted, Lynch is playing the cannibal during a time before he began his search for a lobotomized love slave. According to Variety reviewer Owen Gleiberman, My Friend Dahmer is "a serious and audacious attempt to dramatize the inner life of a sick puppy when he wasn't quite so sick."
With a planned theatrical release for this coming fall through FilmRise, My Friend Dahmer will shed new light on the making of this serial killer as he grew up in the late '70s. The film is based on the eponymous graphic novel written by Derf Backderf, a classmate and associate of Dahmer. Also starring in the film are Anne Heche (Psycho 1998) as Jeffrey's unstable mother Joyce, Vincent Kartheiser (Mad Men TV series) as the bearded jogger that Dahmer becomes obsessed with and Nickelodeon alum Alex Wolff (The Naked Brothers Band TV series) as Backderf himself.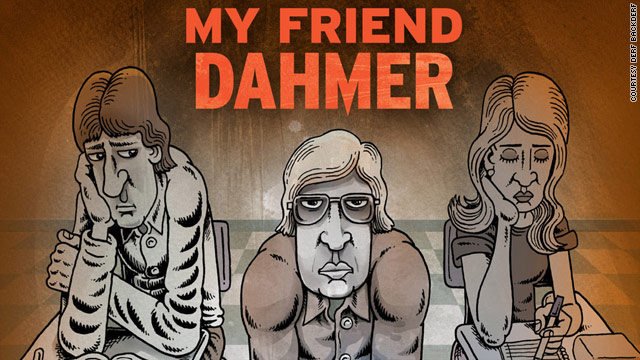 Marc Meyers (How He Fell In Love 2015) directed, produced and wrote the screenplay for the film while Jody Girgenti (Harvest 2010), Adam Goldworm (The Last Witch Hunter 2015), Michael Merlob, and Milan Chakraborty (The Lifeguard 2013) produced. Meyers went to great lengths to be truthful to Backderf's story, even managing to secure permission to film in the house where Dahmer grew up in Ohio.
My Friend Dahmer promises to be a dark, disturbing film that we cannot wait to see here at PopHorror. Despite the fact that Ross Lynch is a Disney Channel veteran, he does look a lot like the serial killer, so that's certainly a plus. Check back with PopHorror to get more news and reviews of this semi-autobiographical tale.