Author Jason Parent is not a stranger to the world of publishing. This New England native has had over a dozen books and short stories published in the past four years, a feat not many authors can claim. Although he's relatively new on the scene, Jason has earned his striped in the literary horror community with books like What Hides Within, Seeing Evil, and his most recent tale, A Life Removed. PopHorror got the chance to talk with Jason and ask him the one thing we're all dying to know… what is his favorite Halloween candy? We asked a few more questions, but you'll have to read on to find out what they were.
PopHorror: First of all, thanks so much for taking the time to answer some questions for us at PopHorror. We're all huge fans of indie horror in both movie and book form so we love getting a chance to talk to the people in the trenches.
Jason Parent: Happy to be here. Thanks for having me.
PopHorror: When did you know you wanted to be an author?
Jason Parent: I don't really know the answer to that. When I was a kid, I dreamed of becoming lots of things, with an author being one among becoming an actor, astronaut, professional athlete, lottery winner, porn star (when puberty set in), serial killer and marine biologist. Never a politician.
Basically, I knew when I first decided I wanted to publish my work, and that was back around 2008 or so when I finished my first novel and said, "Now what?"
PopHorror: Most of your books and stories – so far, at least – have been horror related in some aspect. What draws you to horror?
Jason Parent: Nothing triggers the imagination like a good horror tale, where the fear is almost palpable and you can fool yourself into believing that you are braver than the characters you're following simply by turning the page.
But you're not.
PopHorror: Tell me about the first horror story you ever read.
Jason Parent: The first horror book I can remember reading is Scary Stories to Tell in the Dark. I loved every one of them (except maybe "The Viper," which was sort of amusing the first time but doesn't hold up on multiple reads).
PopHorror: I loved those books! The illustrations by Stephen Gammell are amazing! Do you actually have a favorite horror novel? What do you love about it?
Jason Parent: One of my favorites is Michael McBride's Sunblind. Even without the killer creatures, the novel portrays a harrowing, tragic, terrible yet all-too-real trek across an arid wasteland by a well-drawn cast of Mexicans looking for a better life in America. It doesn't hold back in showing people at their lowest, most desperate moments.
PopHorror: How about your favorite horror movie?
Jason Parent: The Thing, Evil Dead 2, Slither – I have a long list of favorites, but I tend to love sci-fi horror and campy horror most in film. Or movies like Frailty.
PopHorror: Slither is one of my top ten favorite horror movies. Great choice! And Frailty was heartbreakingly horrifying. Let's talk about your stories. A Life Removed is your most recent novel. Can you tell me about the storyline?
Jason Parent: Two detectives hunt a serial killer who has no apparent motive other than the joy of killing. An officer in their precinct, helping with the investigation, draws closer to the truth even as his own life falls apart.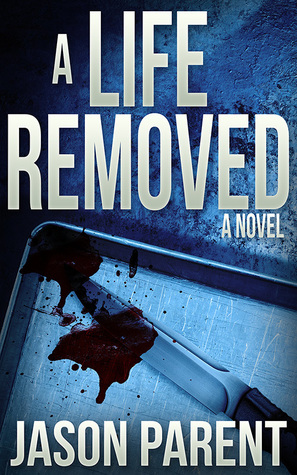 PopHorror: What kind of feedback have you gotten for A Life Removed? I know the PopHorror writer reviewing the book loved it.
Jason Parent: Feedback has been very good so far… hope I didn't jinx it. I think it jives well with horror and thriller fans. But it's dark, maybe too dark for some, and explores both physical and psychological horror, so I'm sure it's not Nicholas Sparks' fans' cup o' tea.
PopHorror: No, I seriously doubt it (laughs)! Do you ever construct your characters with specific people in mind?
Jason Parent: Nearly every character in A Life Removed is inspired by a specific person in or formerly in my life. However, the real person was but a spark that I nurtured into a blaze. At least, I don't think any of my friends are carving people open when I'm not looking. Well, Bill maybe… but Bill's always been a little off.
PopHorror: Yeah, I heard about Bill. What a shame. Tell me about some of your other books.
Jason Parent: I have three other published novels: What Hides Within, about an average joe with a spider living in his head; Seeing Evil, about a boy who can see the horrible fates of those he touches and the detective who tries to prevent them from happening; and People of the Sun, about four aliens with extraordinary powers who crash on Earth and must face off against an inhuman enemy—us. I also have a couple of novellas and a short story collection, all horror.
I have two more novels, the sequel to Seeing Evil and a creature feature, scheduled for publication, as well as a facelift for What Hides Within.
PopHorror: If you could see any of your stories turned into a film, which one would it be and why?
Jason Parent: "Wrathbone," a novella that blends the facts of the Lincoln assassination and the events of Henry Rathbone's life that followed with supernatural horror, could make a quality film and period piece if done right… if I wanted something heavy. For something devilish, fast-paced, and fun, I'd like to see "Revenge is a Dish" made into a Tales from the Crypt-type short.
PopHorror: What is your favorite subject to write about?
Jason Parent: Psychological horror, probably. The traditional hero is brave in the face of physical danger and can endure pain inflicted upon his body. But strip away his sanity, take away those he loves, haunt his nights and possess his days, even the strongest man crumbles.
Also, I like to kill people… er, characters. Yeah, that's what I meant. Characters.
PopHorror: Sure. Sure you did. Do you have anything else you're working on now that you can talk about?
Jason Parent: I am marketing a sci-fi horror novel now and am writing a spinoff to What Hides Within, the latter following two characters from the earlier novel. I am also editing a short story for a uniquely themed anthology due out later this year. I've put a legal thriller/horror on hold for the time being, but plan on getting back to it once I finish the other things I mentioned.
PopHorror: Are you inspired by anyone in the business?
Jason Parent: I am inspired by just about everybody I meet in the business. I could give you an endless list, but just looking at the new releases that keep hitting the shelves, I am overwhelmed by the fresh ideas that keep popping up in a time where reboots and remakes dominate the film industry.
PopHorror: You're preaching to the choir there, let me tell you. If you could collaborate with any author on any kind or project, who would they be and why?
Jason Parent: I'd like to collaborate with a fantasy author like Michael Sullivan, or a sci-fi guy like Frank Herbert – yes, I know that would be difficult – or someone with James Rollins' flair for adventure. I want the reader to feel at home in a world entirely foreign to any human, that strains the bounds of his or her imagination. Writers like those mentioned have the descriptive talent to do just that.
PopHorror: What scares you?
Jason Parent: Sharks, alligators, piranhas… anything else I can't see in the water next to me that may have a desire to eat me. So maybe it's more of a fear of being eaten alive… in the water. Lions and tigers and bears don't scare me. Nor do sharks, alligators or piranhas out of water. Just don't tell them I said that.
PopHorror: Your secret is safe with me. Now's the time where you tell me about anything you want to get out there and answer any questions you wish I'd asked. You must get sick of answering the same questions over and over. There must be something else you'd like people to know about you. Go into as much detail as you want!
Jason Parent: Ooh, so many questions. What's the meaning of life? What would I do for a Klondike Bar? How many licks does it take to get to the center of a Tootsie Roll Lollipop? Sorry, but the world may never know.
PopHorror: Thanks so much for doing this interview, Jason!
Click here for our review of A Life Removed and stay tuned to PopHorror for more horror news!