Syfy's horror anthology series Channel Zero is returning for its third season, titled Butcher's Block. This one is based on Kerry Hammond's creepypasta story, "Search and Rescue Woods." The series was created by Nick Antosca, who is returning as the showrunner, writer, and executive producer. Max Landis will also be joining as an executive producer with the studio UCP.
Official Synopsis: 
Channel Zero: Butcher's Block tells the story of a young woman named Alice (Olivia Luccardi) who moves to a new city and learns about a series of disappearances that may be connected to a baffling rumor about mysterious staircases in the city's worst neighborhoods. With help from her sister (Holland Roden), they discover that something is preying upon the city's residents.
Creepy staircases, cannibalism, and mental illness seem to be some of the themes for season three. According to Bloody Disgusting, Rutger Hauer (Blade Runner, Hobo with a Shotgun) plays the third season's main villain Joseph Peach, a 1950s meatpacking magnate that reminds me of James Patrick March from American Horror Story: Hotel. Olivia Luccardi (It Follows, Orange is the New Black) plays Alice Woods, a young woman who steps in to take care of her schizophrenic sister Zoe (Holland Roden: Teen Wolf, Lore).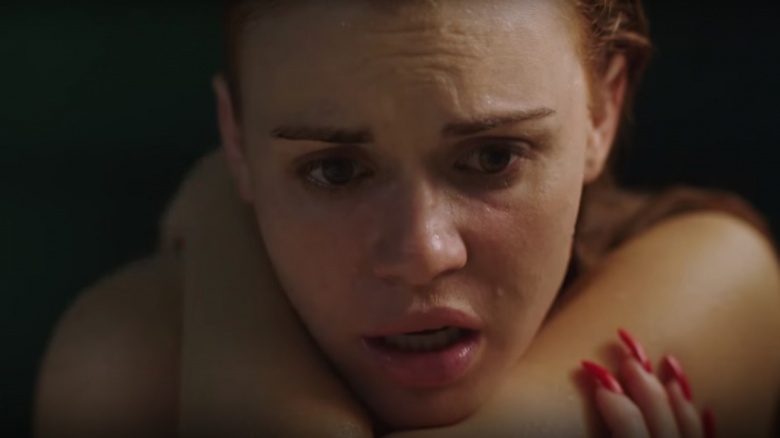 Other cast members include Krisha Fairchild (Krisha, The Killing of John Lennon), Brandon Scott (Wreck-It Ralph, The Last of Us), and Tyrone Benskin (300, Immortals). All six episodes of season three will be directed by Arkasha Stevenson, while Nick Antosca (The Forest, Hannibal, Teen Wolf) has penned the entire season.
The trailer is creepy and gory. Just the image of Roden's character in the bathtub with the razor blade is haunting. Mental illness seems to play an important part of the season. It will be interesting to see how the show will pull off the mental illness aspect.
Channel Zero: Butcher's Block debuts on SyFy on February 7. The first and second seasons are available to watch on the SyFy website and app. Will you be catching Channel Zero: Butcher's Block? Come hungry and let the madness consume you!