Back in 2014, horror lovers were given an unexpected gem with the found footage horror film Creep. It's probably one of the most oddly fantastic films of that year. I really thought it was going to be a one-and-done type of story, so imagine my surprise when Mark Duplass announced that this was actually going to be a trilogy! (Does happy dance). So would Creep 2 capture my heart as much as the first one? Or did Peach Fuzz fail to "creep" me out this time? Let's discuss!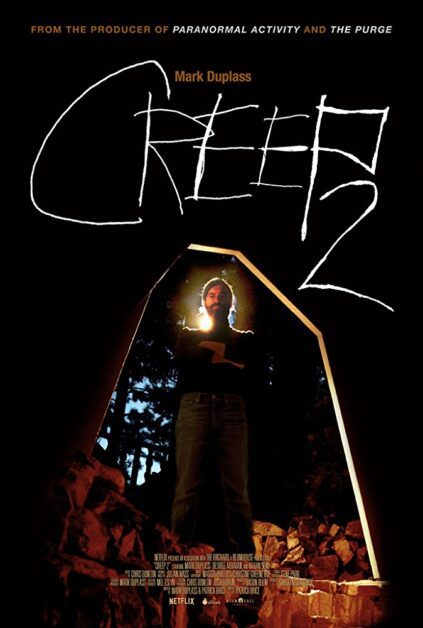 Official Synopsis of Creep 2
A video artist looking for work drives to a remote house in the forest to meet a man claiming to be a serial killer. But after agreeing to spend the day with him, she soon realizes that she made a deadly mistake.
What Works
I'm about to spoil the original… so if you haven't seen it, then you probably shouldn't be reading my review of Creep 2. Don't say I didn't warn ya!
Oh, Mark Duplass… he plays the most magnificent, weirdo creepy dude there is. This time around, Duplass plays Aaron. If you remember anything about the first film, you know his original character's name was Josef and his victim was Aaron. A super fun and clever way to give a subtle nod to that.
I really, really like how the premise of this film starts. It is beyond clever with the new main prey, Sara (Desiree Akhavan), responding to a strange man's ad on Craigslist. She wants to capture all of their interactions with her video blog in hopes that one encounter will make her go viral.
I just have to say that Akhavan is the perfect choice in obscurity to mesh well with Duplass. They really do have this awkward, magical chemistry together that makes the viewer unpleasant yet comfortable at the same time. It's a perfect balance. Akhavan really does carry her own weight. Her strong but vulnerable attitude draws you in and makes you feel her strengths and her pain. Between the two, there is some highly hilarious witty banter that is very quotable. I feel as if Creep 2 really is more fucked up than the first one. The opening sequence will let you know right away that this film is taking it to different extremes.
What Doesn't Work
I really didn't care for how the film ended. I understand that this has already been announced as a trilogy but I needed more answers than just end roll credits. Also, in the original I found the Peach Fuzz mask to be way more creepy. In this one, I felt like it was more comical and that was probably the point. However, the creepiness from the first is one of the reasons why I loved Creep so much. Aside from that, it's a solid film to complement its predecessor. 
Final Thoughts
If you enjoyed the first, you will absolutely enjoy Creep 2 as well. It is by far a worthy installment to this franchise. I'm excited to see what they do with the third film. It is currently streaming on Netflix so watch it as soon as you can and let us know what you think!