As a warning to any fans who are not up to date with Fear the Walking Dead TV series or The Walking Dead shows or comics, be advised that the following may contain SPOILERS.
The Walking Dead creator, Robert Kirkman, made a groundbreaking statement last week at New York Comic Con. If you haven't heard by now, brace yourself, because Kirkman announced there will be a crossover episode between The Walking Dead and its prequel series, Fear the Walking Dead. The only detail we know at this point is the crossover is expected to occur sometime this season. At a panel, Kirkman had this to say:
Once the news hit social media, I found myself in speculating on who will make the crossover. Due to the timeline in The Walking Dead realm, this could either be a flashback or flash forward highlighting a character's storyline. Through many observations with fans of both series and The Walking Dead comics, here are some characters that fans feel will link the two shows. 
Crossover Possibility #1 – Nick / Beta
As the first survivor of the initial outbreak, Nick had the upper hand in the new apocalyptic world. He knew that those affected were not infected, but in fact, dead. His quick thinking and adaptability in the new environment made him a strong character. Fans of the show link these characteristics to those of Beta.
Nick was also the first to discover that the walkers are triggered by the smell of those still alive. Using the blood of the infected as a shield, he's been able to maneuver through hoards and walk among the dead. Some might think that camouflage is the color of fear, but Beta will make you think otherwise. Beta is a key member of the hierarchy of The Whispers group from The Walking Dead comics. Without giving away too many details, it is plausible to get a taste of The Whispers by the end of season 8, depending on the story progression. Nick's abilities and current mental state in The Walking Dead world align him to mirror that of Beta's character.
Crossover Possibility #2 – Victor Strand / Beta
In a flashback sequence, Strand spoke of having investments connecting him to New Orleans, Louisiana. Depending on the course of events in upcoming episodes, Strand could make his way back to known territory, putting him on the path to meet up with The Whispers. The connection between Strand and The Whispers is Beta. Strand's stature is close in comparison to Beta's. The mystery behind Strand's demeanor and lack of empathy is a firm foundation for Beta in the making. Beta is brutal and aggressive towards anyone outside his circle and very protective of his identity and his leader. These are some key components that unite the two.
Crossover Possibility #3 – Madison / Alpha
Prior to the outbreak, Madison worked as a high school guidance counselor. Her character is intelligent, ruthless, and maintains control in particular situations. She portrays a strong protector role, possibly as a result of the tragedy she's experienced before and after the outbreak. There is a substantial connection between Madison and Alpha.
Alpha is the leader of The Whispers and a mother. She takes pride in her ability to lead a large group of reinforced survivors. Through her actions and view of society, she is proven to be a pure savage that lacks any sign of affection or empathy. If Madison's character seams together with Alpha, this would be a storyline that fans would see from start to finish. The transition between Madison to Alpha would be a major story arc outlining more devastation and unfortunate forthcomings.
Although Kirkman stated only one character would cross over, let me tie something together. Strand and Madison have a sturdy relationship that is fused by survival and anguish. This partnership seems to mirror that of Alpha and Beta.
Crossover Possibility #4 – Tobias
In my opinion, the best character to cross over from Fear the Walking Dead would be Tobias. He followed reports about the virus affecting other states and, fearing for his well-being, began scavenging for food immediately. It's safe to assume he is still alive. This is a blank canvas for writers to use to their advantage. It would be a surprise to many to see Tobias pop up near Washington, D.C., meaning he was able to put his survival skills to the test. Traveling across the country unscathed would leave fans believing he is a strong character. With his knowledge and ingenuity, he could fill the spot left by Eugene in Alexandria.
Crossover Possibility #5 – Morales
Back in season one, Morales and his family decided they were going to part ways with Rick and the group before everyone headed to the CDC. Although the status of Morales and his family is unknown, there is a storyline that was severed but never put to rest. There have been teasers and fans speculation of Easter eggs from past seasons which would indicate a return of Morales and his family. Based on the timeline between the two shows, it seems the events in Fear the Walking Dead are approaching the time Rick and the Atlanta group take off for the CDC.
Crossover Possibility #6 – Abraham
Let's face it, who didn't enjoy Abraham's colorful one-liners? Who else other than him could say it best, "Loose ends make my ass itch." What we know about his past is he originates from Houston, Texas, where he started a family. Once the virus spread, he and his family took shelter in a local grocery store. Members of the group who settled in the store raped Abraham's wife and daughter and forced his son to watch. Abraham killed them and, out of fear, his wife took off with the kids. Abraham later discovered the lifeless bodies of his family and had to find a new reason to survive. What took place prior to that is up for question. Exposing Abraham's fight to survive, as a father and husband, would shine new light on a beloved character.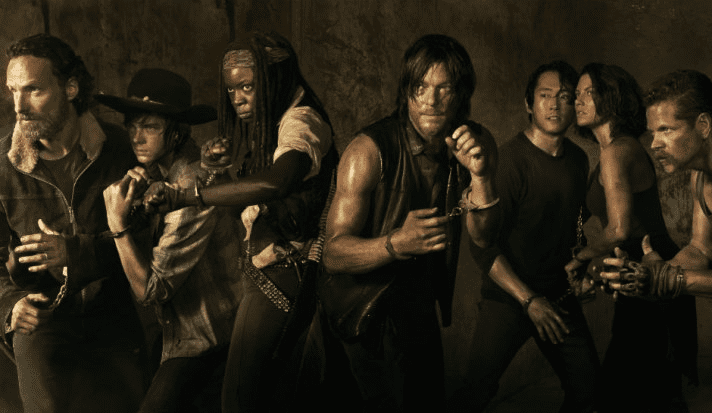 Where everything currently stands, it's a safe bet that a flashback is a more favored route. However, choosing to expose a character from Fear the Walking Dead at a later time would entice fans of The Walking Dead to watch upcoming episodes. It seems to be more interesting to watch events unfold rather than follow a character in retrospect.
Be sure to tune in on Sunday, October 15th for AMC's Fear The Walking Dead Season 3 finale. Season 8 of The Walking Dead premieres on AMC on Sunday, October 22nd, celebrating its 100th episode.
What are your thoughts on the crossover? Are there any characters you'd like to see make the crossover? Post your thoughts in the comment section below, and thanks for reading!