Earlier this year, my anticipation was high for The Wicked One (you can read my review here), which turned out to be an intense and satisfying indie slasher. Soon after viewing it, I found out that its writer, Cheyenne Gordon, was writing and directing his own film, Scream For Summer, which got me excited. After interviewing Cheyenne (you can read that interview here), my excitement reached fever pitch. I finally got the chance to check out Scream For Summer. Did it live up to my high expectations?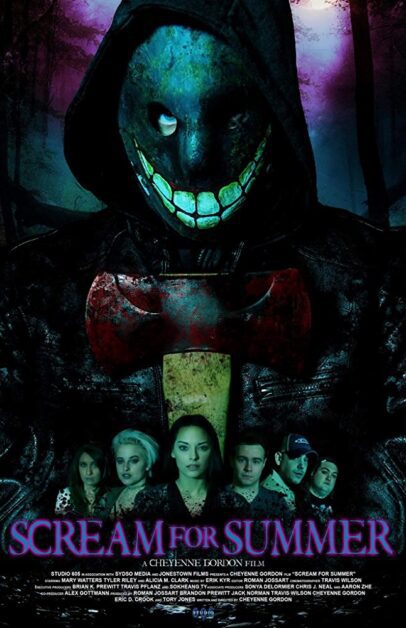 Scream For Summer was written and directed by Cheyenne Gordon and produced by Studio 605, the team behind The Wicked One as well as the indie slasher films The Woods Within, Campground and Campground: The Requel. The film stars Cheyenne Gordon, Jack Norman, Sonya Delormier, Brandon Prewitt and Mary Watters, as well as Failing Grace's Adam Artherton and Austin Tarantino. Tyler Riley (The Woods Within 2014), Alicia M. Clark (The Hospital 2013), Sokheang Ty, Kat Gore, Roman Jossart (Don't Fuck in the Woods 2016), Sophia Manyet (Cinematic Reality 2017), James Tackett (Cinematic Reality 2018), Cameryn Zupon (Angel 2018), Derek Litke and Niki Marie also star.
Official Synopsis:
Graduation is over, and for Sam Willis and her friends, there's only one summer left to make as many memories as possible. But when teenagers of the town begin to fall victim to a crazed killer in a distorted smiley face mask, the memories will turn out anything but good for the group. As bodies pile up, the twist of who is responsible may come a shock to all.
Scream For Summer captures the feel of a '90s slasher film. The film is a little slower paced but it is also very character based, and it takes the time to establish the characters and their backstories, making them feel like so much more than stock victims.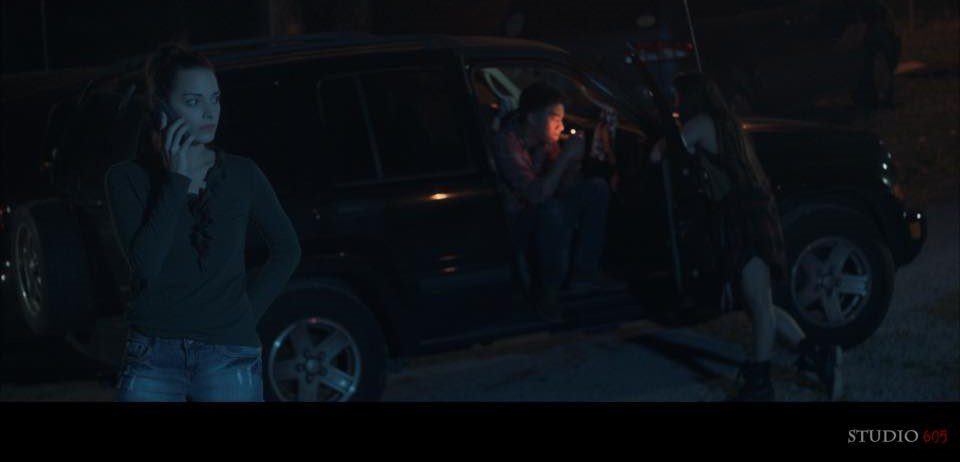 These characters are portrayed by one of the most talented casts I've had the pleasure of watching in an indie slasher. The cast is led by Mary Watters, whom I loved in her brief but memorable role in The Wicked One. I was excited when I heard she was taking on a lead role in this film. Thankfully, she doesn't disappoint. She plays Sam, a character with a tragic past who is struggling to hold it together but is always one step away from breaking. Mary delivers a layered performance, going from cool and calm, light and funny, to an emotional wreck, to a badass with ease while still being believable. Sam feels like a real person. My favorite moment is when Sam knee's a would-be rapist in the balls.
I've seen Roman Jossart in a few projects now, starting with Don't Fuck In The Woods. Roman always brings the laughs, which is no different here, but I was pleasantly surprised with his acting chops in Scream for Summer. He has definitely come a long way in a short time. One of my favorite things about his performance was his bromance with Tyler Riley's Tristan. Tyler Riley was excellent and relatable as Tristan, Sam's love interest and best friend. Who can't relate to being in love with a friend who is way out of your league? Been there, done that.
Two more actors that I loved from The Wicked One return here: Sonya Delormier and Cheyenne Gordon. In Scream For Summer, they play characters that used to be a couple and the scene they share together is intense, emotional and extremely well acted. I felt like I was watching something I shouldn't. It was like I was witnessing a real couple fighting.
I really enjoyed the story here and how it kept me on my toes. I wasn't sure while watching the film who the killer was, as several characters had potential reasons. Is it the recently returned cop with a dark past? Is it the love interest whose love isn't reciprocated? Is it someone else entirely? I'm sure as hell not telling, but I will say that the reveal knocked my jaw to the floor. I didn't see it coming.
The kills, while not all gory, are pretty intense, including stabbings, axings, strangulations, faces torn open with axes, eyebrow pencils to the eye and more. My absolute favorite kill was the ax to the face. The victim is lying there with their lips slashed open and their jaw exposed, begging for mercy that never comes.
Final Thoughts for Scream for Summer
Scream For Summer features some great gore, a wonderful cast, and a jaw-dropping killer reveal. It is an intense and character-driven throwback to the slasher films of the '90s. If you grew up on films like Scream and I Know What You Did Last Summer, I highly recommend checking out Scream For Summer.