Best Pils Productions and Violent Art have teamed up with P.S.Y.C.H.O. Productions to bring horror fans an entertaining, blood splashed short called Zombiercalypse. The film features Jim Aal as Jim Aal. It seems Aal has made quite the character of himself, as he was also in Cannibal Messiah, but in Zombiercalypse, he takes the center stage as an explosive, one man zombie wrecking army. Aal will stop at nothing to neutralize the zombie threat… except to polish off a case of pilsner.
Directed by P.S.Y.C.H.O. Productions crewmember Sebastian Zeglarski, the man responsible for the infamous underground splatter film A Cruel F*%king Nightmare, Zombiercalypse takes a hilarious look at the world and its tendency to create incredible amounts of waste and garbage. In this case, toxic cosmetic products creates a great story angle that Zombiercalypse describes in a funny sense with particular male and female crew members adorning tons of make up. The problem gets so bad that the world has to find a way to dispose of all the by waste. The solution? Blast it off into space, of course. This obviously backfires, and soon the earth is populated with waste-infected zombies.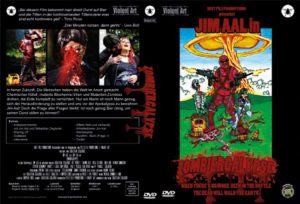 Zombiercalypse is satirical, low budget horror/gore fun. These guys created a tongue-in-cheek, 10 minute comedy zombie short with Jim Aal as the drunken madman hero who is as interested in finishing his case of beer as he is blasting away zombies with handguns and machine guns. There's lots of face and head splattering gore. The film is basically Jim Aal as himself adorned in bullet belts filled with beer and weaponry, spewing out jargon and standing in one spot while shooting zombies. The final question: what happens when he finishes his last beer and there is no more!?
The tag line says on the DVD says it all: "When there's no more beer in the bottle, the dead will walk the earth!" [ads 2]
Kudos to Violent Art and P.S.Y.C.H.O. Productions for this most excellent short. The film is 10 minutes but there is over an hour of bonus material, such as behind the scenes, making of, interviews and so on, which are just as entertaining as the movie itself. Jim Aal is hilarious and the behind the scenes footage is amazing, offering a great look into how low budget filmmakers use creativity to get the job done. There are also trailers for the upcoming film Nocta, A Cruel F#$king Nightmare, Cannibal Messiah and we even find out what kind of beer Jim Aal enjoys. It's a great DVD to pick up. The movie is in English, which you can choose in the menu, and the extras have English subtitles. You can pick up the DVD for this film as well as their others on the P.S.Y.C.H.O. Productions website.
As an aside, the crew from P.S.Y.C.H.O. Productions has always been a class act. They are a pleasure to deal with, and they treat their fans and supporters with the utmost respect. You can feel confident in placing an order for any of their movies, shirts or posters and know it will arrive promptly. When I reviewed Cannibal Messiah, I was instantly floored by how much of an epic film it was. It melded extreme gore with comedy which gave it this unique and indescribable panache. It was easy to see these guys knew what they were doing and they were having fun doing it. Crippler Criss from the P.S.Y.C.H.O. crew is a nice guy to deal with whom I've interviewed as well. P.S.Y.C.H.O. Productions are one of the best active independent film making companies right now, so show them some love for their humorous and gory work and visit them on Facebook or stop by their website.